FREE eBook: How to Write a Thanksgiving Letter to Employees
Lessons from Real-Life Thanksgiving Thank You Notes
Your employees work hard for you all year. What better season to express your gratitude than Thanksgiving? Learn how to write a Thanksgiving letter that communicates your appreciation in a way employees will value and remember year-round.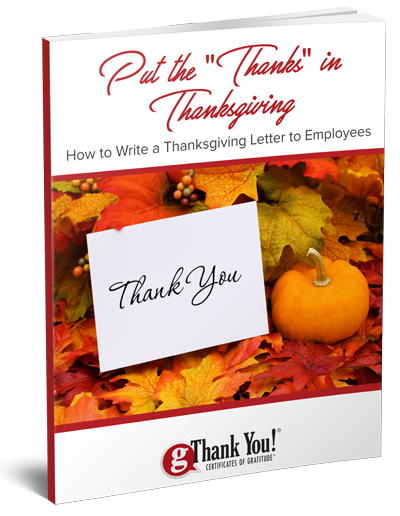 Download our FREE eBook and gain insights from today's workplace leaders to writing a Thanksgiving note of 'Thanks' that employees will remember.

You'll learn:


•
The
business case
for sharing a Thanksgiving "ThankYou".
•
Real-life examples
of memorable Thanksgiving letters from bosses in a variety of industries.
•
Best practices
for thanking employees and
ideas for brainstorming
your own unique approach.
•
Tips on
how to share
your Thanksgiving letter.

Fill out the form to the right and download your free copy today.
From your friends at gThankYou!
"The deepest principle in human nature is the craving to be appreciated."
William James, American philosopher and psychologist