DOWNLOAD YOUR FREE EBOOK

"Writing Thank You Notes Employees Will Treasure"
LEARN HOW TO MAKE EVERY THANK YOU COUNT!
Sharing a sincere workplace "thank you" is a powerful force that improves employee wellbeing, happiness and loyalty. Yet, as simple as that is, lack of appreciation is the primary reason people quit their jobs.
Good intentions do not make a culture of appreciation.
Start putting employee appreciation into action today by learning how to write workplace thank you notes that are meaningful and impactful. This short, how-to guide by gThankYou provides everything you need to start sharing heartfelt appreciation today.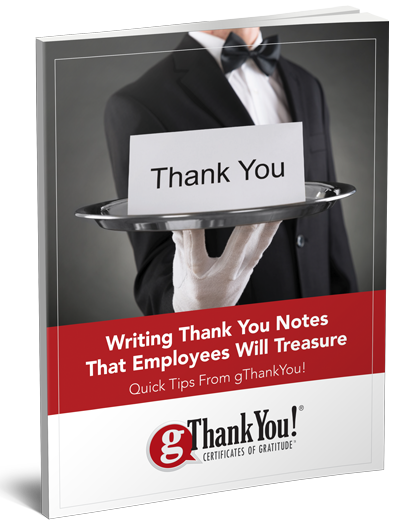 Inside this free ebook, you'll learn:

• How sincere appreciation is different
than recognition
• Why you should be writing more
thank you notes
• The anatomy of a truly great
thank you note
• Practical tips and tools for writing
more impactful thank you notes
• How to make every thank you count!
What are you waiting for? Put your appreciation in action today with this free guide! Fill out the form to the right and download your copy now.
"The deepest principle in human nature is the craving to be appreciated."
William James, American philosopher and psychologist